DRUKTEN: The Dragon's Treasure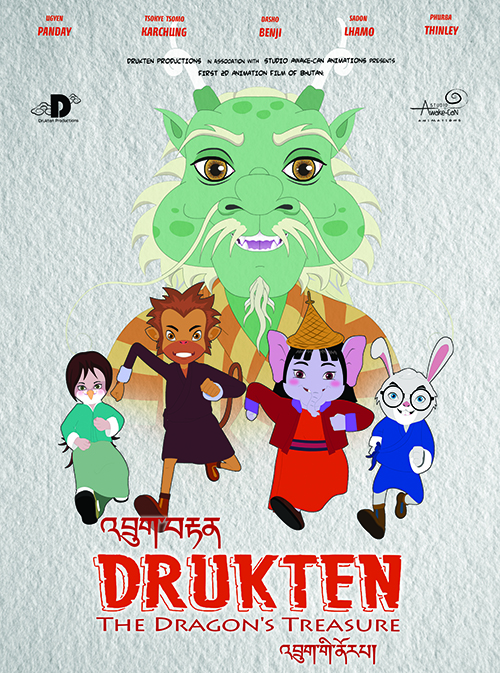 Feature Animation
Duration: 55 min
Year: 2016
Director:  Chand Bhattarai
Writer: Nawang Eden and Rabsel Dorji
Editor: Poonam Rai
Music: Choeying Jatsho
Produced by: Nawang Eden and Rabsel Dorji
---
Watch on VIMEO
Drukten: the Dragon's Treasure is Bhutan's first 2D animation. The film is based on the characters of the popular Bhutanese folklore "Thuenpa Puenzi" – the Four Harmonious Friends.
When the 4 friends are tasked by the school gardener- Drukten to find the treasure to save their tree and school, they must embark on a journey around Bhutan. From east to west, north and south, they learn new lessons and meet new friends, all the while trying to find the magic rings which may lead them to the Dragon's treasure. But they must return before the full moon, and will have to face the demoness before they can succeed.
English (with English subtitles when Dzongkha or Scharchogpa)
Chand Bhattarai
Chand is an artist, illustrator and animator, and also a member of VAST Bhutan, the only contemporary art center in the country. In 2013 he co-founded the animation studio- Kewa Studio with a group of friends and animators. They produced the short Nowhere, which won the first prize in animaton in the Beskop Tshechu film festival 2013. Nowhere later screened in Sri, Lanka, Australia, and the Kurzfilmtage Winterthur in Switzerland. In 2015 Chand started a new animation studio- Studio Awake-can with childhood friend and animator Nima Dorji Tamang, where they produced Haste Slowly, which also won the Best Animation award at the Beskop Tshechu film festival 2016. He also directed a 2D Animation TV mini series for RENEW organization on empowering women and children.