THE CONTAINER (2011)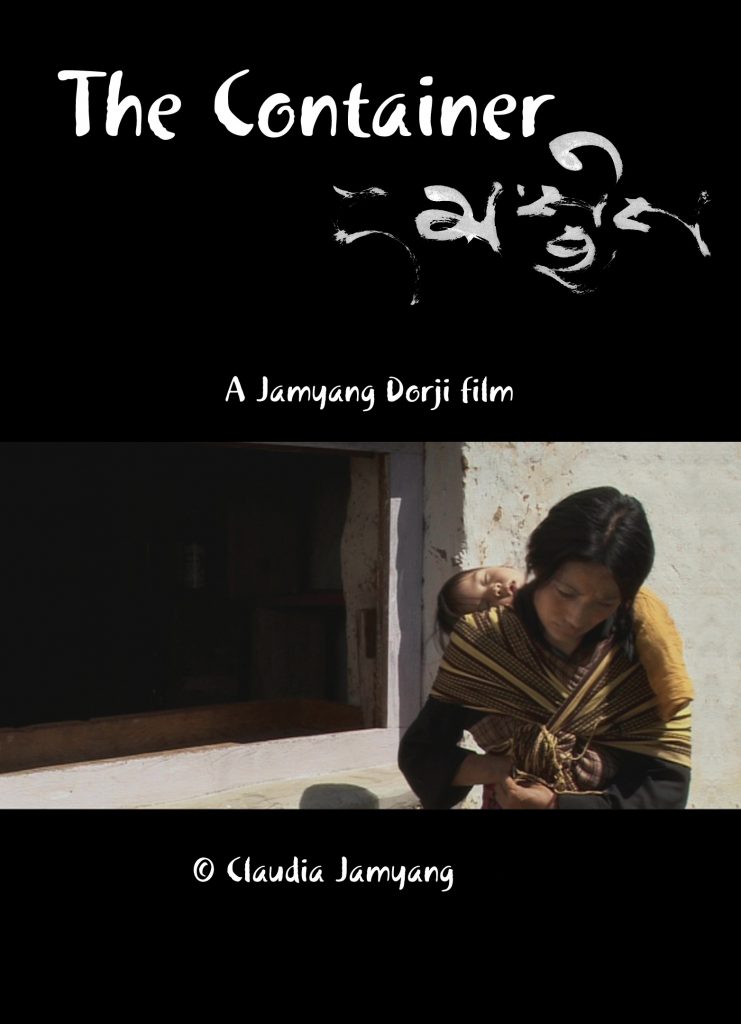 Short Film
Duration: 15 min
Year: 2011
Format: DV
Director: Jamyang Dorji
Writer: Jamyang Dorji
Cinematography: Sonam Loday
Editing: Heidi Kenessey
Produced by: Claudia Jamyang and Julia Booth
Cast: Deki Yangzom
---
Watch on VIMEO

Synopsis
This may be one of Bhutan's first known short films, which screened internationally. It was nominated as Best Short Film in the Brussels International Independent Film Festival in 2011.

Set in Bhutan in 1980 and inspired by true events, this is a story of a mother's devotion to her child, as she travels a great distance from her poor, remote community to get some medicine from a small hospital for her very ill baby.

In a cruel twist of fate she learns that even though the government provides the medicine free, she must supply a container to hold the precious liquid. She doesn't have a bottle and can't afford to buy one.

The search for a container begins….
Dzongkha with ENGLISH subtitles
Festivals/Awards
Brussels International Independent Film Festival 2011
Beskop Tshechu Bhutan Film Festival 2011
Film North-Hunstville International Film Festival 2013
Mumbai International Film Festival (MIFF) 2018
Jamyang Dorji

Jamyang Dorji was born on 20th May 1980 in Bhutan. H.H. Chokling Rinpoche head of the Gyurme Ling Monastery in Bir, H.P. India, is Jamyang's elder brother. So at the age of 6, Jamyang became a monk at the Gyurme Ling Monastery to be H.H. Chokling Rinpoche's attendant. He attended Semthoka High School, Bhutan from 1989-1998. In 1999 he studied Acting in Delhi. In 2002 he wrote and Directed a feature film called NORBU, in 2003 he worked on the film Milarepa as a assistant to the Producer. He also worked as technical crew on the films Honeygiver Among the Dogs, Hema Hema: Sing me a Song while you Wait, and wrote and directed a commercial Bhutanese film- Lencha. He is currently working on his next feature Five Steps Journey set in Bir, India, to be released in 2021.
He was inspired to make The Container after hearing a similar story from his relative's experiences.