PRICE OF KNOWLEDGE (1999)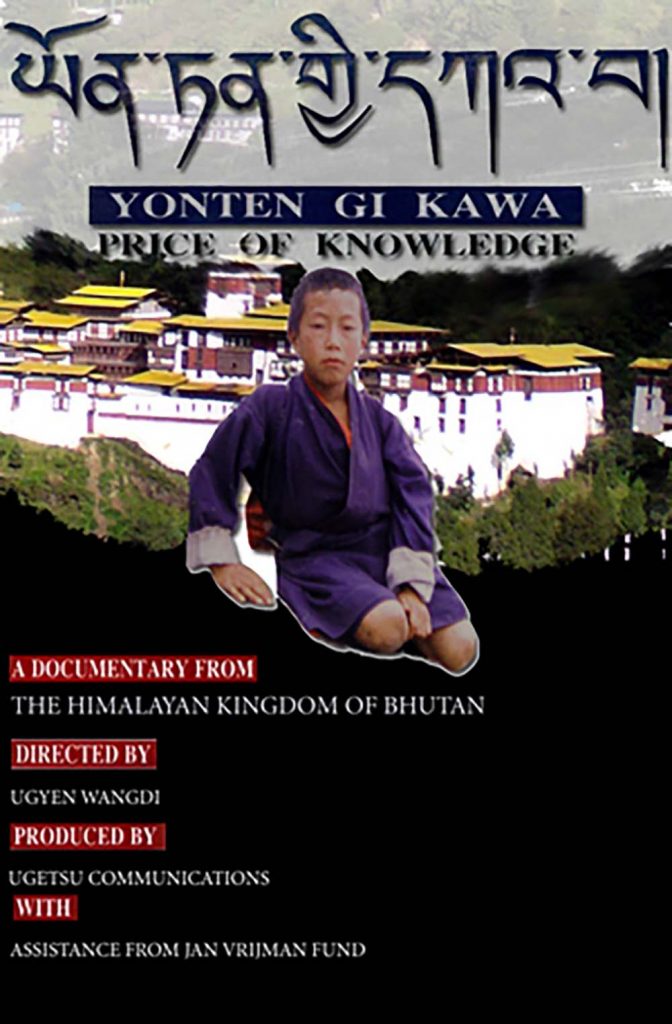 Documentary
Duration: 36 min
Year: 1999
Format: Beta
Director: Ugyen Wangdi
Cinematography: Ugyen Wangdi, Demba Tsering
Editing: Ugyen Wangdi
Sound: Jigme
Music: Nedup Dorji
Screenplay: Ugyen Wangdi
---
Watch on VIMEO

Synopsis

Day by day, 11 year old Sherab Dorji walks three hours to school. In the early morning he meets the other children of his village at a chorten, a Buddhist shrine. From there, they walk to school together singing. The road leads across a mountain and through the woods. The parents are constantly afraid of their children meeting up with wild animals along the path. When Sherab walks the last part by himself in the evening, he prays aloud to fight his fear. They walk so much, his father says, that their socks tear within a week. Sherab's family depends on subsistence farming. Sherab and his family's life are presented in a touching realistic portrait of rural Bhutan in 1999.
Festivals/Awards
Supported by the IDFA Vrijman Fund
Winner- IndieKino International Film Festival 2002
Taiwan International Documentary Festival
Certificate of Merit- San Francisco International Film Festival 2000
Ugyen Wangdi
Ugyen Wangdi is Bhutan's first filmmaker. He made Gasa Lama Singye in 1989, and later delved into documentary, becoming also what we call the father of documentary filmmaking in Bhutan. His documentaries Price of Knowledge and Price of Letter have both screened in numerous international film festivals and won numerous awards. Ugyen Wangdi finished his film studies from the Film and Television Institute of India, Pune. He opened his own film company and produced educational and corporate videos. Price of Knowledge was his first documentary film, and it won an award at the International Film Festival in Nuoro, Italy, a a certificate of Merit from the San Francisco International Film Festival. The documentary Yi khel Gi Kawa (Price of Letter) is a sequel to Price of Knowledge.