PRICE OF LETTER (2004)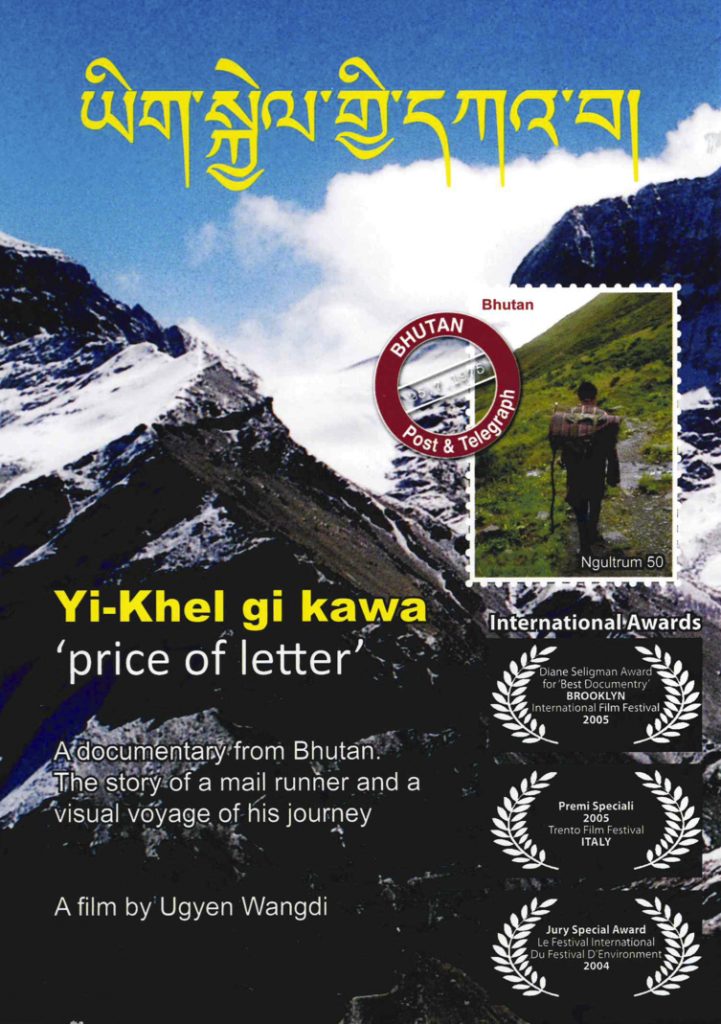 Documentary
Duration: 68 min
Year: 2004
Format: Beta
Directed by Ugyen Wangdi
Written by Ugyen Wangdi
Produced by Ugetsu Communications
Camera: Ugyen Wangdi, Ten Dorji
Sound: Phuntsho
Music: Vocalist Dengo
Cast: Ugyen Tenzin
---
Watch on VIMEO
Synopsis
49 year old Ugyen Tenzin is the last postal runner of Bhutan. He has been working for the Post for 26 years ago. He must walk by foot, by himself, for about a week, through the mountains of Bhutan to deliver the mail to Lingshi, a high mountain village (at 12,000 ft). The documentary follows him and the treacherous albeit beautiful journey, in both the winter and summer seasons, and was shot over three years. A documentary by Bhutan's last postal runner by Bhutan's first filmmaker.
Dzongkha with English subtitles
Festivals/Awards
WINNER of the Diane Seligman Award for Best Documentary at the Brooklyn Film Festival 2005
WINNER of Premi Speciali (Special Award) at the Trento Film Film Festival 2005
WINNER Jury Special Award La Festival International Du Festival D' Environment, Paris 2004
WINNER Planet Infocus Mark Haslam Award Toronto 2012
WINNER Grand Prize 20th Tokyo Global Environment Film Festival
Ugyen Wangdi
Ugyen Wangdi is Bhutan's first filmmaker. He made Gasa Lama Singye in 1989, and later delved into documentary, becoming also what we call the father of documentary filmmaking in Bhutan. His documentaries Price of Knowledge and Price of Letter have both screened in numerous international film festivals and won numerous awards. Ugyen Wangdi finished his film studies from the Film and Television Institute of India, Pune. He opened his own film company and produced educational and corporate videos. Price of Knowledge was his first documentary film, and it won an award at the International Film Festival in Nuoro, Italy, and a certificate of Merit from the San Francisco International Film Festival. The documentary Yi khel Gi Kawa (Price of Letter) is a sequel to Price of Knowledge. It won an award in Brooklyn Film Festival in 2004 as well as other awards. Ugyen Wangdi is currently developing a new documentary feature.